Main content starts here.
Gift of Nature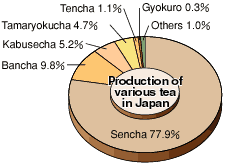 Tea is usually classified into three groups according to the difference of processing; fermented tea (black tea), non-fermented tea (green tea), and semi-fermented tea (oolong tea).
Among these three types, almost all teas are made into green tea in Japan. And also, green tea is classified into several different kinds according to the part of the leaf used, pluc-king time, cultivation methods, manufacturing methods, etc. Almost all of these tea are produced from steamed leaves to remove the enzyme activity.
Kind of Japanese Green Tea
Steaming

Sencha.Fukamushicha
Sencha is the most popular type of tea in Japan. Sencha, which is produced in the first crop season, is a particular favorite because of its refreshing flavor with a green note.
Fukamushicha is the other type of sencha, which is produced from leaves steamed for a longer time. The color of liquor is deep green and its taste is bitterless.

Bancha
This is lower grade of sencha, made from coarse leaves and stalks. The size of the rolled tea leaves is also larger than sencha.

Houjicha
This is lower grade tea, made from bancha by roasting at around 200Ž for a few minutes. Houjicha is brown in color and has a unique roasted scent and when it is steeped, it has a light golden beer color.

Genmaicha
This is a mixture of bancha and popped genmai or hulled rice kernels. It makes a light brown tea with a savory flavor.

Gyokuro
This is the finest tea in Japan, and its taste is a tender sweet astringency and characteristic flavor. This tea is cultivated in the shade for about 2 weeks.
Matcha(Tencha)
Matcha is the type of tea that is used in the tea ceremony. It is made by grinding the dried tea leaves called eTenchaf to a fine powder.
Tencha is made in the same way as gyokuro, but by drying without rolling.

Tamaryokucha(Guricha)
After being steamed this tea is made into comma-shaped tea with a rolling drier. This tea is manufactured in the district of Kyushu in the main.
Panning

Kamairicha
This is pan-fired tea, its taste is somewhat plain but refreshing, with no smell of greens. This tea is manufactured in the district of Kyushu only.
Please click the following for more details.

Classification of Tea in the World

Production and Consumption of Tea in the World

Different Kinds of Tea in Japan

Present Situation of Tea Production in Japan

Cultivation of Japanese Green Tea

Japanese Green Tea Producessing

Quality Control of Japanese Green Tea

Packing and Storage of Japanese Green Tea

Distribution of Japanese Green Tea

Consumption of Japanese Green Tea
<<MENU