Main content starts here.
For Your Health
Physiological functions of Japanese Green Tea
It is believed that tea drinking was accepted as a medicinal beverage at first. Later, the main function of tea was transferred from medical use to drinking use as a refreshing and thirst-quenching beverage. The custom of tea drinking gradually became popular over a long period of time.
In recent years, with the advance of modern chemistry, components of tea have been analyzed and the health effects of green tea have progressed to the point where there is now scientific confirmation for the saying that 'Tea is a miraculous drinks for the maintenance of health'. And, it is becoming increasingly clear that green tea has a broad efficacy in physiological functions. Catechins found in Japanese green tea are receiving particular attention with regards to the component's many health benefits.
Physiological functions of Japanese green tea components
Green tea components
Contents
Functions
Catechins
10~18%
Anti-oxidative action
Anti-mutagenic action
Enzyme inhibitory action
Anti-hyperglycemic action
Anti-hypertensive action
Anti-bacterial action
Anti-viral action
Radioprotective action
Anti-tumor action
Anti-hypercholesterolemic action
Fat reducing action
Anti-ulcer action
Bowel modulating action
Anti-carious action etc.
Caffeine

---

Vitamin C

---

Vitamin B

---

y-amino butyric acid

---

Flavonoids

---

Polysaccharide

---

Fluoride

---

Vitamin E

---

Theanine
3~4%

---

150~250m%

---

1.4m%

---

0.1~0.2%

---

0.6~0.7%

---

0.6%

---

4~190m%

---

25~70m%

---

0.6~2%
Removal of fatigue and sleepy feeling Diuretic action

---

Removal of stress Cold prevention

---

Excitometabolic action of carbohydrates and amino acids

---

Anti-hypertensive action

---

Halitosis prevention

---

Anti-hyperglycemic action

---

Anti-carious action

---

Anti-oxidative action Aging prevention

---

Anti-hypertensive action
New Types of Japanese Green Tea Products
Japanese green tea has various components, such as catechins, caffeine, amino acids, vitamins, flavonoids, polysaccharides, fluorine, etc. that are an important for a healthy body.
Recently, in addition to the drinking of tea, wider application for tea and its components are being developed. And, tea's antioxidative, antibacterial, deodorant and other properties are being put to use in various fields such as the beverage market, dietetics and daily life implementation. Now, new types of goods which are made from tea or its components are becoming increasingly popular.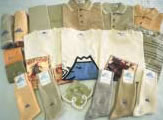 Green tea cotton
(Socks, T-shirts, Polo-shirts, Towels, Undergarments etc.)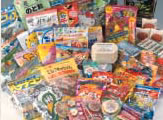 Confectionery
(Catechin Candy, Chewing gum, Biscuit etc.)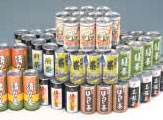 Can drink, Pet bottle, Instant tea etc.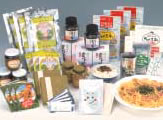 Eating tea
(Tea powder, Tea flake, etc.)
Please click the following for more details.

Health Benefits of Tea Drinking
<<MENU