Main content starts here.

Marriage and Tea
In Kyushu, special engagement gifts used for ceremonial exchange are sold in Tea shops. The main gifts used for a ceremonial exchange of engagement gifts is the tea in in Kyushu. Tea has a symbol meaning chen used as an engagement gift. A typical engagement gift will always included large bags of tea, a gold colored tea pot and an luxurious crafts and a gold colored tea pot as a gift.
So, why is tea included with the engagement gifts in Kyushu? It is because tea trees are difficult to transplant, and in the same way that tea trees do not transplant well, people wish for the new couple put down their roots and never leave each other. However people don't usually send good tea for this occasion. It is because we say good tea extract (deru) well. And this "deru" also has a meaning of leave. So it was a kind of taboo to use this word for the wedding. I don't mean to emphasize the role share between women and men in the marriage. However in traditional role sharing homemaking was primarily cooking was a women's job. Maybe that's why men send tea to express their wish to the women for keeping the house.
(Yoichiro Nakamura)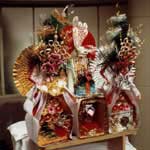 Tea used for the ceremony
(Saga city, Saga prefecture)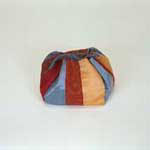 Tea bag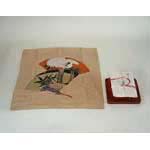 A kind of tea used as an engagement gifts
(Kanagawa prefecture)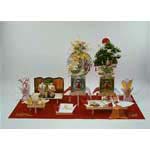 Engagement gifts tea (Kyusyu)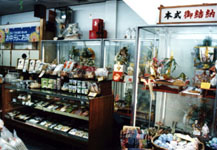 Ceremonial exchange of engagement gifts
(Miyazaki city)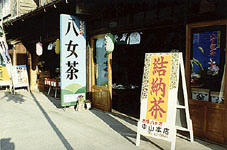 Ceremonial exchange of engagement gifts are sold at the tea shop (Miyazaki city)