Main content starts here.

Bancha (coarse tea) tells history of tea culture in Japan
When you think of Bancha (coarse tea), you may picture it as a low quality and nonstandized cheap tea. However, sencha (green tea), now most popular tea for drinking in Japan, became popular only from the middle of the Edo era. Before that, Bancha was the daily drinking tea for the common people and was mostly made at each house.
Bancha is not popular in the famous tea producing areas. As the producer tried to make the price high for the tea, producing Bancha was eliminated little by little. Contrarily at the rural mountain areas, the bancha is still a daily drinking tea for the people. There, you can see how Japanese people used to drink tea and the old tea culture by looking the method of making and serving Bancha.
There are many characteristic common of bancha culture with West South of China, North of Thailand, Miyammer. Bancha is drunk throughout the Asia. Learning about Bancha may change the general idea of Japanese people hold of tea.
(Yoichiro Nakamura)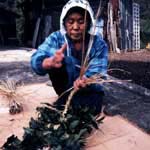 Making Bancha, at the process of drying it in the shade.
(Katsuyama city, Fukui prefecture)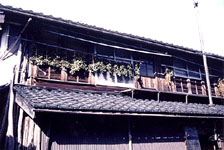 Drying process in the shade
( under the eaves)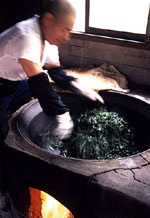 Mr. Todaka (Soyoucho, Aso county, Kumamoto prefecture)