Main content starts here.

Tea- For eating powdered grain
Tibet is located in West of China, and was an independent country before. Potala palace in Lhasa was a place where Dalai Blama was maintaining the government based on Buddhism. This palace is located in a place as high as the top of Mount Fuji. People who is not accustomed to the atmosphere of high altitude can easily succumb to mountain sickness.
The people in Tibet drink very unique tea which is called butter tea. To make butter tea, first extract brick tea with water, and then pour the tea into the 15 to 30 cm2 length wooden tube and stir. They eat "Chanpa" for breakfast. This Chanpa is made with tea and flour knead together to make a dumpling. There is a very similar food in Japan. In Shizuoka or Ouno city in Fukui prefecture, people used to make dumplings with grain powder and thick tea.
Compared to Beans or Wheat, this powdered grain requires short cooking time and they are quite nutritious. One trouble with this food was sometime powder stick to the throat and choke, that's why people invent to mix the powder with tea to make it more palatable, and it became popular. It is quite amazing that we have a same kind of food as Tibet where is so far east from Japan.
(Yoichiro Nakamura)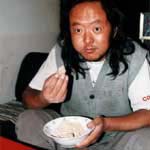 Eat Chanpa (Tibet in China)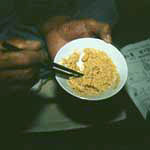 Iriko (Fukui prefecture)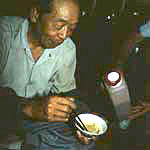 Iriko (Fukui prefecture)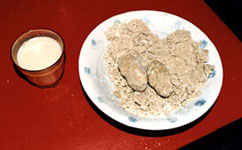 Chanpa (Tibet)