Main content starts here.

Chadou and Chaya
When we cross a mountain pass and look down the place where we are heading for, it feels like a whole new world is waiting for us. So to say, a pass is a boundary to the two different world. Japanese people may instantly imagine "Chaya (tea shops)" when they hear the word "touge" (pass) because often the TV drama taken place in Edo era, show edo style tea shops at pass and as travelers crossing the pass they sit on the chair and have a cup of tea and chat with other travelers or the waitresses. The reason why at the every pass had a tea shop was of course to satisfy travelers thirst, and also there was an another reason, more of based on the old belief of Japanese people. Touge is considered as a boarder from and into the different worlds. Also the word "Chaya(tea shop)" itself holds a special meaning.
At the seaside of Mie prefecture, villagers gather to the beach and hold a memorial service for the first Bon. During the service, the tent where the tomb enshrined was called "Chaya(tea shop)" At the Bon festival in Hamamatsu city called "Ensyu Dainenbutu", descendants welcome the souls of ancestors and entertain them with tea at Chaya, and there is a song for that and it is sang at the festival. In other words, Chaya was also considered as a door to the life and the life after the death.
There are also usually small buildings called "Chadou" at the end of villages. Near the Obon festival time, villagers come to Chadou alternatively and entertain the travelers who cross those pass with some sweets and a cup of tea for free. They probably see the souls of ancestors in those travelers. Here, also you can see the evidence of the similarity of the ceremony of Chaya for crossing the boarders.
(Yoichiro Nakamura)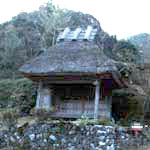 Chadou
(Takaokagun, Kouchi prefecture)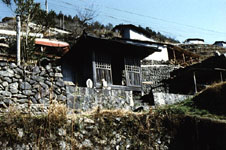 Chadou
( , Nishitosa village, Kouchi prefecture)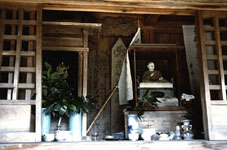 Inside the Chadou
(Nishitosa village, Kouchi prefecture)