Main content starts here.

Botebote cha from Izumo region
Izumo is an old name for Matsue region of Shimane prefecture, and where the well known tea expert "Fumaikou Matsudaira" comes from. This area is also known for the wide variety of tea cakes.
Botebote cha was the tea widely loved by the people in Izumo before the World war‡Ubegan. To make "botebote cha", make the coarse tea, then pour into the cup which is the color of transparent yellow, then take a chasen (whisk), put some salt at the edge and whisk the tea. And then put some cooked black beans, red colored rice, chopped pickles into the foamed tea, and eat. "Shirifuri cha" is very similar to "Botebote cha" except the way to eat. To have shirifuri cha, you don't use chop sticks to eat the things inside the tea, you just have to thought of throw the food from the cup into your mouth.
Origins of the "botebote cha" is said when people were suffering from starvation, Fumaikou Matsudaira told people to mix food and tea like this. That way they can satisfy with even little food they eat, and tea gives energy. Also in Oshima region in Yamaguchi prefecture, it is said that origins of tea porridge is when Lord of Mr. Yoshikawa moved from Iwakuni from Sekigahara told people this idea for saving rice during the hardship of the economy.
This kind of stories exists at many regions in Japan, and it is just a way to tell people that this way of eating does not look or sounds very good; however it has such a venerable story with it. This interesting way of using tea must not started by particular person, and was started by people who live there. Botebotecha is a one way to use tea for other than just drinking.
(Yoichiro Nakamura)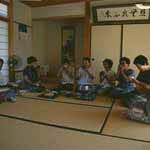 Botebotecha
(Shimane prefecture)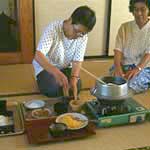 Botebotecha
(Shimane prefecture)