Marufuku Seicha Co,. Ltd.
Marufuku Seicha purchases teas from Shizuoka and throughout Japan, and engages in tea production, processing, and distribution. Fascinated particularly by the flavor of tea leaves from the mountainous area upstream of the Abe River in Shizuoka City, it established proprietary roasting techniques to draw out the character of the tea leaves.
While adhering to the basics of traditional tea production, the company also handles new products such as tea potage and tea for sprinkling on yogurt.
| | |
| --- | --- |
| Company address | 25 Wakamatsucho, Aoi-ku, Shizuoka-shi, Shizuoka |
| Tea varieties | Sencha, Genmaicha, Hojicha, Matcha, Powdered tea, Tea bags |
| Languages | Japanese, English, French |
| Contact | Shuko Yamada |
| Website | Marufuku SeichaCo., Ltd. |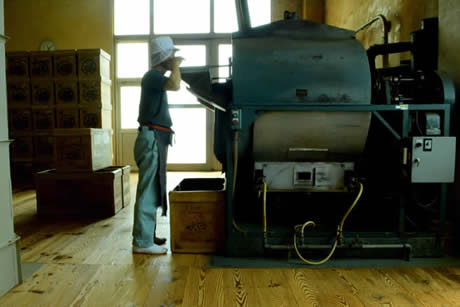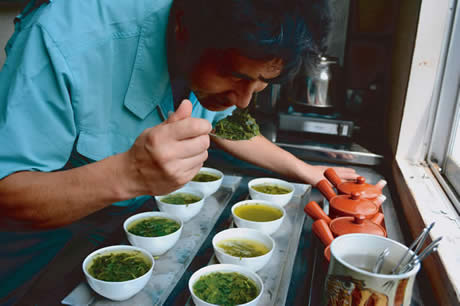 Program A
Shizuoka tea briefing and preparation practice

Lesson in Japanese tea and Shizuoka tea history, industry, and functionality at the Tea Museum, Shizuoka

Training in tea cultivation and unrefined tea process at tea field and unrefined tea factory

Training in finishing process, powdering process, and packaging into teabags

Tea evaluation methods

Practice making hojicha
From the host
Goal: Make your own packaging and unique tea blend.
Recommended for persons who...
• are interested in roasting and blending
• are interested in product development
• wish to learn about various tea processes
Study period
A week (No work on Sat, Sun)   

*Study period and duration negotiable



Participation fee
70,000yen (in the case of a week program)
Capacity
1-2 persons
Accommodations
Hotel near the company to be arranged by the participant (rental bicycle available for commuting)
Entry qualifications
People who interested in tea
What to bring

Farm work-appropriate clothing and shoes, the other daily necessities
*In order to prevent the spread of infectious disease, Japan is currently implementing immigration restrictions on travelers.Please confirm the latest condition when traveling. Link to Ministry of Foreign Affaires of Japan: https://www.mofa.go.jp/ca/fna/page4e_001053.html
---
The other host tea companies
Maruyama Tea Products Corporation