Main content starts here.

G

reen tea

To learn basic manner of drinking green tea
With Tea cup with the cover: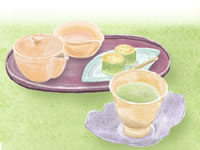 Before touching the cover of the cup, say "Itadakimasu" as a greeting for eating and drinking in Japanese, then place your left hand on the top of the cover and hold.
Carefully take the cover off from the cup without making any noise, then let the moisture drip into the cup by slightly touching the edge of the cover to the cup.
Turn the cover up side down and hold it with both hands, then place it on the saucer, just to the right side of the cup.
Place the left hand to the saucer, and then lift the cup up using your right hand.
After lifting the cup, place the cup onto your left hand, and quietly drink tea with appreciation. After drinking tea, place back the lid on top of the cup following the opposite procedure of taking off the lid.
How to eat "Wagashi" (Japanese confectionery) with tea
If there is the Kuromoji (shaped almost like a toothpick), use it for cutting the cake into bite size pieces and spear a piece, and then eat. If there is no Kuromoji, use your hand to break the cake into small pieces. It is not appropriate to eat the whole thing at once.