Main content starts here.
Genmaicha (brown rice tea) and Mugicha (barley tea)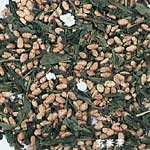 Genmaicha Genmaicha is a mixture of roast brown rice and green tea or bancha (coarse tea). Genmaicha will probably be categorized in the variation of flavored tea. In Korea, there is a very similar tea to Genmaicha called "okogecha (roasted rice tea)". In Japan, there used to be regions where people drank roasted rice as a substitute for green tea. I think this roasted rice tea was the origin of genmaicha. We both have rice crop culture, and we somehow have similar preferences in the taste. That's probably the reason why we both originated very similar kind of tea. Genmaicha is an aromatic tea and perfect tea to go with casual snacks. Mugicha (barley tea) In Japan, mugicha was started to be drunk by common people long time ago, even before the green tea became popular. In Edo era, people called them "mugiyu" instead of "mugicha". To process mugicha, the whole barley are used, and they are roasted at high temperature. In Kantou area in Japan, Rokujo type barley is used mainly, and Hadaka barley are more popular in Kansai area. Over all, Rokujo barley is more popular in Japan. It is because of their better marketing. Mugicha does not have the same kind of refreshing aftertaste as tea. However, in hot summer, drinking iced mugicha feel so refreshing. Mugicha actually contains vitamin B1 which is a great supplement for the summer time.
(Junpei Yokoi)