Main content starts here.
Why steaming tea leaves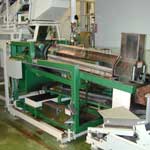 Leaves plucked to be processed tea are delivered to crude tea factory right away, where they are steamed by heat immediately. The purpose of steaming is to inactivate the enzyme by heat. Without steaming, enzyme in leaves change the components inside, one of which is oxide of catechins caused by polyphenol oxidaze. Catechins, one of main components of leaves, which is a taste factor of astringent taste of green tea, are regarded as having functions such as anti-oxidation. Steaming process is important to keep the tea taste and to keep the functions of catechins as it passes catechins in leaves onto tea. Black tea, made from leaves containing much catechins, is not steamed so that most catechins are oxidized to leave little astringent taste. Oxides generated from catechins characterize the taste of black tea as theafrabin, one of the oxides, characterize the color of black tea solution. Black tea has its characteristics because the leaves are not steamed. It is called fermented tea because there is a process of fermentation by enzyme activities, while green tea is called non-fermented tea because there is no fermentation process. Oolong tea, and black tea, doesn't have a process of inactivating enzyme but leaves are panfired during the procedure to inactivate enzyme and it is called half-fermented tea. Kamairicha is one of non-fermented teas produced in China and there is no steaming process. Instead, enzyme is inactivated when leaves are directly heated on an iron plate. Steaming in crude tea processing eliminates the smell of green-leaves, generate the fragrance of green tea, and increases the flexibility of leaves for easier operation after steaming, as well as inactivating enzyme.