Main content starts here.
Famous tea producing areas in Japan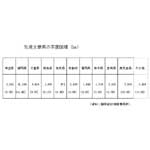 Tea is a sub tropic plant, and prefers warm and damp weather. Depending on what part of Japan the tea was grown, taste and the aroma of the tea can slightly be changed. The oldest tea cultivation recorded in Japan is back to the 9th century in Chugoku region. Tea was then officially introduced by the famous Buddhist monk Eisai (1141-1215) to Japan. He had brought processed tea and seeds from the country of Song (China), and soon tea cultivation were spread to different regions in Japan. Here is the list of the famous tea producing prefectures and brief information about each tea: Saitama prefecture (Sayama cha) Produce Smokey flavor with slight bitterness and strong sweetness green tea. Shizuoka prefecture (Shizuoka cha) Produce half amount of the total green tea production in Japan. Shizuoka is known for producing high quality teas and having wide varieties of green teas. Gifu prefecture (Ise cha) Gifu is the thirdly large tea-producing prefecture in Japan. Kabusecha is mainly produced in Kitaise, and deep steamed sencha is produced in Minami ise. Kyoto (Uji cha) Famous for producing Uji, Gyokuro and Tencha. Nara (Yamato cha) On Yamato highland, the boarder between Mie, Shiga and Kyoto prefecture, high quality green teas are produced. Fukuoka (Yame cha) Sencha, which is called Yame cha is produced at Yame region and also around Hoshino village. Largest amount of gyokuro is also produced in Fukuoka prefecture. Kumamoto prefecture (Kumamoto cha) At Aso to Kyuma basin, equally amount of Sencha and Tamaryokucha are produced. Miyazaki prefecture (Miyazakicha) Production of roasted tamaryokucha is famous. At kirishima basin, high quality green teas are cultivated using the unique climate. Kagoshima prefecture (Kagoshimacha) Second largest tea producing prefecture in Japan. Producing area is widely spreaded from Kirishima basin, Satsuma, and to Osumi peninshura. Automation cultivation style is very common.