Main content starts here.
Temomi (Hand made method of green tea)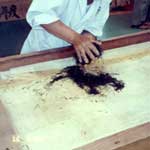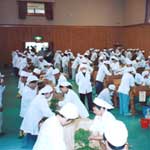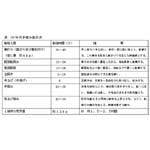 Temomi CHA is said to have been first produced in about 1400, when a Zen priest introduced the method. It is inferred that long shaped tea leaves were produced using the skills of ever used method and hand handling. After a tea merchant in Uji, Kahei Yamamot invented the processing of Gyokuro in 1835, it improved the hand made method of tea. Tokichi Sakamoto in Ikumi village in Shizuoka prefecture invited several tea producers from Uji in 1838, and they built a tea processing factory and the furnace, introducing their skills to the people in the area for 3 years, which brought more than 10 successors. From mid 1800, export of tea increased and the skills of hand made method improved. New skills such as Kokuri and Denkuri were invented. As a result, there became several schools of hand made tea methods, which encouraged the development of tea processing skills. In 1905, they were united into hand made method of green tea of the time. When skilled producers hand make tea, shiny deep green needle shaped Sencha is produced. But because of the time consuming process and learning of the skills, mechanization was introduced. 8 people who considered hand made method to be maintained gathered to establish Shizuoka Hand Made Tea Club in 1959 to succeed the skills of hand made method. They hold a various events such as hand made method lessons, competitions, and exhibitions to improve the skills of hand made method.