Main content starts here.
Brazilian Tea History
The article was contributed by the Founder of Escola de Chá Embahú, Yuri Hayashi for "Ryokucha vol.47", tea bulletin in Japanese issued by World Green Tea Association. We sincerely appriciate her contribution.
Please click the title "Brazilian Tea History" on the above and enjoy the article.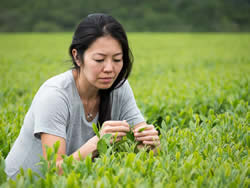 About the author
Yuri Hayashi
Founder of "Escola de Chá Embahú"
Yuri Hayashi is founder of "Escola de Chá Embahú", the first Brazilian tea education institution. Enthusiast since childhood, she started teaching in 2013. Her classes have reached hundreds of tea lovers and entrepreneurs from all over the big country of Brazil. Moreover, Yuri is often required as a consultant for external lectures and tastings, business start ups and contributions to press articles.

She pioneered at some unprecedented projects: the first guided tour focused on supporting Brazilian
tea farms and a non-profit national awards on Brazilian tea products. Today, her tea school has a
team of collaborators with expertise in specific areas such as engineers for industry, food supply
regulations, managers in foreign trade, tea blenders, as well as partnership with major tea shops and
national distributors. Nevertheless, a book on history of tea culture in Brazil is currently in progress.