Main content starts here.
World Green Tea Conference 2004
Outline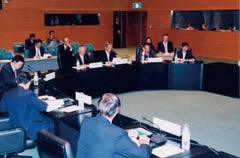 Sponsor
world Green Tea Association
Place
Granship, Meeting Hall
Schedule
November 1 (Mon.) 14:00 - 17:20 Session 1
November 2 (Tues.) 9:00 - 17:00 Inspection tour
(Location of inspection)
Tokai University Junior College
Agriculture Union Sakaguchi
Greenpia Makinohara
Okabe-machi Superior Green Tea Plantation
November 3 (Wed.) 10:00 - 12:30 Session 2
Attendants
Name
Group name
Rachmat Badruddin
Indonesia Tea Industry Association Advisor
Kalley Greeger
German Tea Industry Association / Helsen & Lyon Company, Vice President
Kim Yongle
Korea Tea Producers Federation, Vice Chairman
Liu Huanxiang
China Tea Marketing Association , Chairman
Nguyen Kim Phong
Vietnam Tea Industry Association, Chairman
Shi Jianqiang
Zhejiang Tea Leaf Industry Association , Chairman
Shu Facheng
Taiwan Tea Producer Industry Association, Chairman
Joseph Simlarny
The Tea Association of the USA , Chairman
Hakuo Yanagisawa
Japanese Tea Industry Central Association, Chairman
(Chairperson)
Mayumi Otsubo
World Green Tea Association, Director
Sangyo University, School Master
Contents
Including Japan's green tea producers and traders, 9 of the world's tea industry related group's representatives have attended, this first worldwide meeting to discuss the possibilities of international joint cooperation in the production and increase in consumption of green tea. "Major Subjects Discussed at the World Green Tea Conference" has been agreed upon.
Major Subjects Discussed at the World Green Tea Conference
The participated organizations shall promote scientific research on the health efficiency of green tea at the international level and cooperate to supply information to media.

The participated organizations shall mutually promote studies on producing methods, varieties of tea, and marketing methods. The participated organizations shall mutually exchange expertise and information.

The participated organizations shall cooperate to introduce the traditional and new ways of enjoying green tea especially in the countries where green tea is not yet popular.

The participated organizations shall promote development in new green tea products and in products utilizing the effective contents of green tea.

The participated organizations shall endeavor to find the measures and methods of assuring consumers of green tea's quality so that they can drink green tea without concerns. For this purpose, the participated organizations shall exchange information.

When any of the participated organization holds any green tea event, the organizations shall mutually provide information and participate in the event or help organize the event.

In order to promote the above mentioned measures, we shall establish the international green tea producing communities and cooperative relationships among the organizations. For this purpose, we shall regularly hold international conferences on green tea promotion in the future. At the same time, we shall continue our plan to develop international database on green tea.

With World Green Tea Association and with other related associations and organizations, the participated organization shall develop further communication among people through green tea, make the tradition of hospitality more known, and contribute for the world peace by improving health and promoting mutual understanding of the people all over the world.